You know the feeling.
What you feel when you see your child after too much time away.
What you feel when you start a new book and your hooked with the first few sentences.
What you feel when you walk on the boardwalk as a 7-year-old when you catch a glimpse of that roller coaster way up ahead.
What you feel when you're almost near the "finish line".
What you feel when you find the "perfect pair of jeans" ON SALE!
Your heart beats a little faster. You move a little quicker.  And you're smiling–though you probably don't even realize it.
The ANTICIPATION.  The RUSH.  The mental HIGH.
That's how I feel every time I log onto Twitter. Whether it's a quote, infographic, or something new to take back into the classroom, it's the same feeling.
And boy, does it feel good.
Here are my top 10 takeaways from Twitter THIS WEEK!
10.  Answer Garden: Digital scribble space. Using 20 characters or less, you can use this as a Q & A forum for students or brainstorm session. Quick and easy!
9. A link to an incredible book club for summer reading: For those interested feel free to join the #satchat book discussion on Digital Leadership edmo.do/j/4xswdm #ACretreat14
8. If you want to update your resume, prezi is the way to go for educators. @techgirljenny has an AMAZING resume for ideas.
7. Looking to increase your Digital Leadership? Follow these challenges…http://adjustingcourse.wordpress.com/2014/05/12/digital-leadership-challenge/
6. Can't forget the late great Maya Angelou https://pbs.twimg.com/media/BozZBmrCIAAGbcA.jpg:large
5. #complichat is a new Twitter chat debuting June 10th at 8:30 EST. @bethhill2829 and @jenngroach will be hosting.  Amazing educators!
4. Did you know you can WEAR technology? Check this out: http://www.edudemic.com/wearable-tech-in-the-classroom/
3. Why creativity in the classroom is so important: http://www.ted.com/talks/ken_robinson_says_schools_kill_creativity
2. Use this image to guide you during an interview: (posted by @plugusin)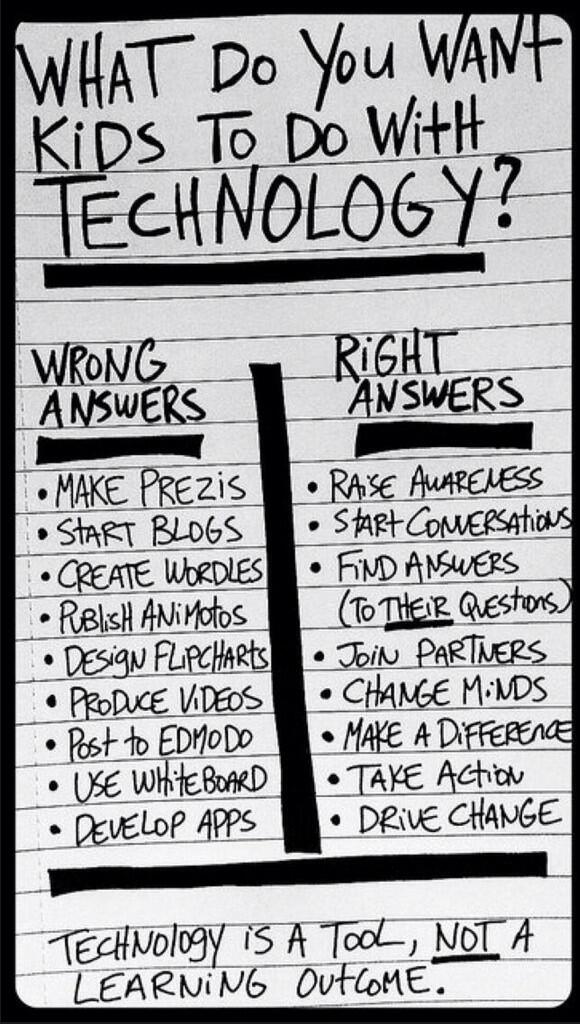 1. And finally, ask yourselves these 7 questions as you end your week, courtesy of this post by @2morrowknight. 
"7 questions…" via #Infographic http://t.co/O3zE458m86—
Sean Gardner (@2morrowknight) January 25, 2014
What have you taken away from Twitter this week?